Page 2 - Explore Copenhagen 2019
P. 2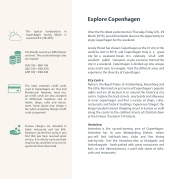 The typical temperature in Copenhagen during March is around 4-8°C (39-46°F).
The Danish currency is DKK (kroner and øre). The usual exchange rates are around:
EUR 100 = DKK 745 USD 100 = DKK 650 GBP 100 = DKK 845
The most common credit cards used in Copenhagen are Visa and Mastercard. However, most ma- jor credit cards are also accepted in ATMs/cash machines and at hotels, shops, cafés and restau- rants. Some places may charge a fee when accepting foreign credit cards as payment.
Service charges are included in hotel, restaurant and taxi bills. However, do feel free to tip if you find that you have received great service. It is entirely up to you how much to tip, and there is no set eti- quette for this in Denmark.
Explore Copenhagen
After the Pre-Moot excitement on Thursday-Friday (28 - 29 March 2019), you will no doubt deserve the opportunity to enjoy Copenhagen for the weekend.
Lonely Planet has chosen Copenhagen as the #1 city in the world to visit in 2019, and Copenhagen truly is a great city for a weekend break. It is relatively small with excellent public transport, so you can cover most of the city in a weekend. Copenhagen is divided up into unique areas and is easy to navigate. Visit the different areas and experience the diversity of Copenhagen.
City Centre
Nyhavn, the Royal Palace of Amalienborg, Rosenborg and The Little Mermaid are just some of Copenhagen's popular sights and are all located in or around the historical city centre. Explore the back streets, courtyards and alleyways of inner Copenhagen and find a variety of shops, cafés, restaurants and historic buildings. Experience Strøget; the longest pedestrianized shopping street in Europe or walk along the canals to the cobbled streets of Christianshavn or the famous "freetown" Christiania.
Vesterbro
Vesterbro is the up-and-coming area of Copenhagen. Vesterbro has its own Meatpacking District, where you will find laid-back bars, clubs and fine dining side-by-side. Feel the Vesterbro-vibe at Istedgade and Vesterbrogade - both packed with great restaurants and bars, or visit Værnedamsvej; a quiet side street of delis, cafés and restaurants.